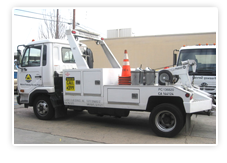 Classic Club Service, Inc has been a well-established professional tow and auto repair company in the city of Van Nuys since 1987. It all began when two friends built their friendship working side by side as dedicated employees of Classic Club Service, Inc. In 2002 they took over Classic Club Service and became efficient in the day to day operations as new owners. Today our team works aggressively and tirelessly to assist our customers and their vehicles.
We offer a variety of repair services for your convenience. We are contracted by Southern California Automobile Club (AAA); Metro Freeway Service Patrol (FSP); and Califronia Hilghway Patrol (CHP) and work with these agencies to ensure you are taken care of.
Classic Club Service, Inc. has been a valued member of the California Chamber Of Commerce since 2004. And a certified member of the California Tow Truck Association(CTTA) since 2006.
Our fleet of towing vehicles are clean, well maintained and ready to tow your vehicle, 24 hours a day 7 days a week.
Our CCS Auto Repair has earned us a reputation that has resulted in repeat business. We guarantee you will leave our shop satisfied with the quality and service.
DON'T GET STRANDED call us today 818-785-5373!